Angel families attempted to meet with House Speaker Nancy Pelosi again when they stormed her office Wednesday demanding that she support President Trump's efforts to secure the border.
In December, a group of Angel mothers whose children have been murdered by illegal aliens living in the United States went to House Speaker Rep. Nancy Pelosi (D-CA) and Sen. Chuck Schumer (D-NY) office demanding to know if they would support a border wall if it meant their loved ones would be saved from illegal alien crime.
They were turned away by Pelosi's staff who claimed that she was not in the office – all the while a meeting was taking place in her private office, but supposedly, Nancy was not in the meeting – in her office – someone else was using it, without her – right.
Angel families tried again Wednesday to meet with Pelosi, once again converging on her office in an attempt to meet with her.
Breitbart reports:
Americans whose loved ones have been killed by illegal aliens flooded into the office with questions as to why their many requests for meetings with the Speaker went unanswered. Front office staff had little to offer in the way of an answer and wouldn't give an idea of when so much as an aide would be available to meet with the families.
Angel moms pointed again to the walls and doors keeping them separated from Pelosi and her staff despite Pelosi's claim that a border wall is "immoral." She additionally called border walls "expensive, ineffective, not something that people do between countries." She said this despite the many countries throughout the world, including the United States, that have erected walls along their borders.
HAPPENING NOW: Angel Moms Visit Nancy Pelosi's Office…

Posted by Breitbart on Wednesday, February 13, 2019
Some of the angel families inside Pelosi's office Wednesday titled the border wall they were advocating for "America's wall," not just the president's wall.
Democrats have previously voted for and called for a barrier at the southern border, but have largely opposed funding any additional border barrier under President Donald Trump.
Angel dad Don Rosenberg held up a photo of his son and let her staff know his son died in Pelosi's district. "She, in her 31 years in office, has done absolutely nothing to stop illegal immigration," he said of Pelosi.
Two Capitol Hill police officers then entered the office to speak with Pelosi's front desk staff. Several more officers arrived outside the Speaker's office during the time the crowd of angel families was there.
Within minutes of Rosenberg's words, a voice could be heard yelling from the hall, "no money for the wall!"
Angel families held up photos of their dead children and family members. The group was so large that not all could fit inside the office and flowed out into the hall.
"Build that wall," came calls from the crowd. Others questioned why Pelosi cares more for illegal aliens than American citizens. One asked if a rod shoved through the head of a 17-year-old by an illegal alien was "immoral," or if it mattered to her.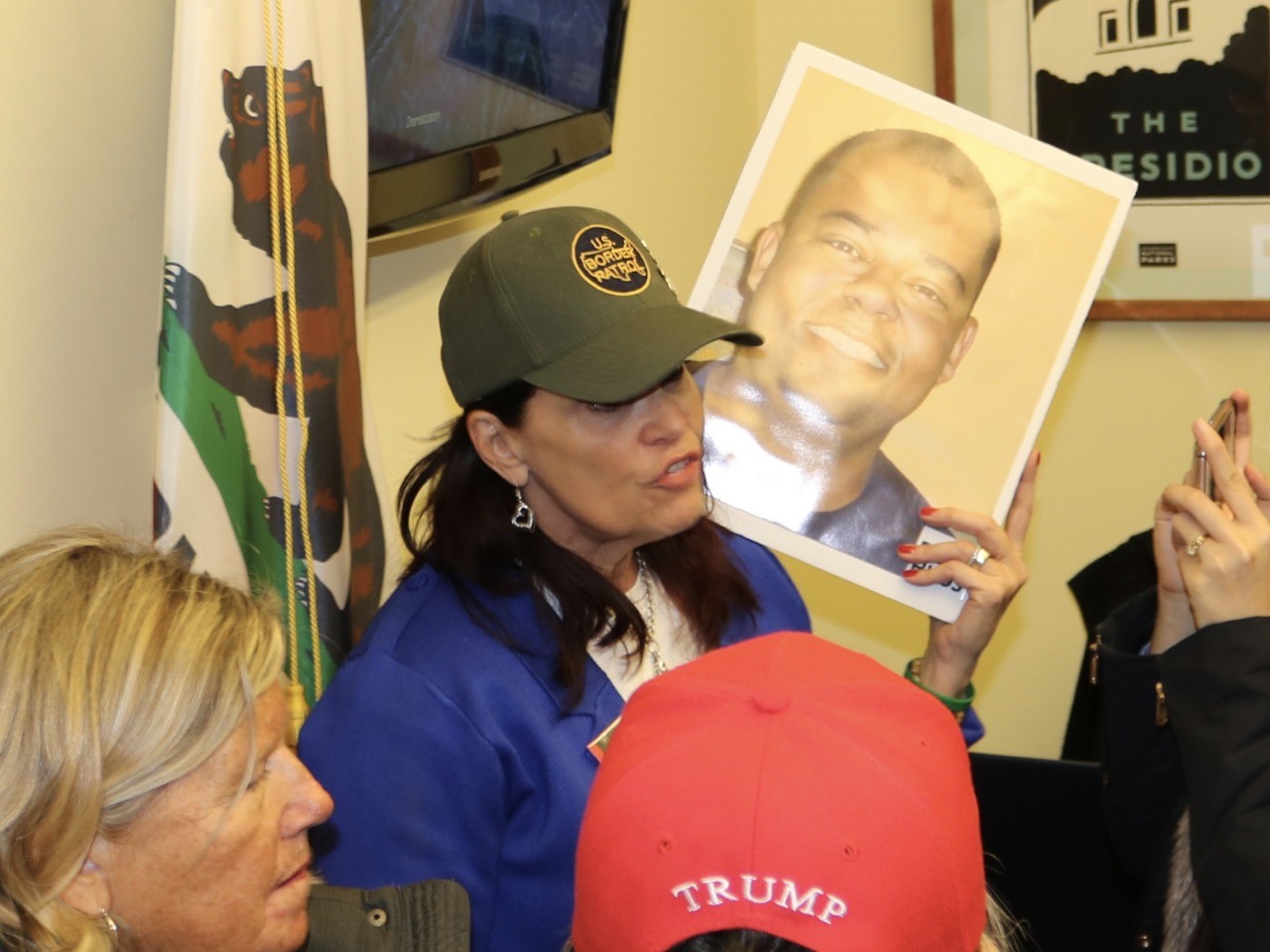 Angel mom Sabine Durden holds up a photo of her only child who was killed by an illegal alien. (Michelle Moons/Breitbart News)
The angel families rallied with current and former legislators and pro-border security and pro-Trump groups at a press conference outside the Capitol building before marching over to Pelosi's office with calls to secure the U.S. border.