Creepy porn lawyer Michael Avenatti said his client who he boasted would destroy Judge Kavanaugh might not come forward, and then locked his Twitter public profile from view.
After two days of parading around and grabbing any media attention he could with the news he has a "100 percent credible" accuser against Supreme Court nominee Brett Kavanaugh, adding that she has "multiple witnesses to corroborate her story" and that she is "willing to take a polygraph," Avenatti is walking back that assurance in a Tuesday morning tweet.
"Let me be clear: We will disclose the client's name and accusations only when SHE is ready and we have adequate security measures in place. And not a moment before that," Avenatti tweeted. "It is her choice and hers alone as to when to surface bc it is her life. We expect it within the next 36 hrs."

A few minutes after this apparent walk back, where he appears to be blaming the woman if he does not deliver what he promised, Avenatti, the attorney for porn actress Stormy Daniels made famous by CNN, locked public access to his Twitter account, Breitbart reports.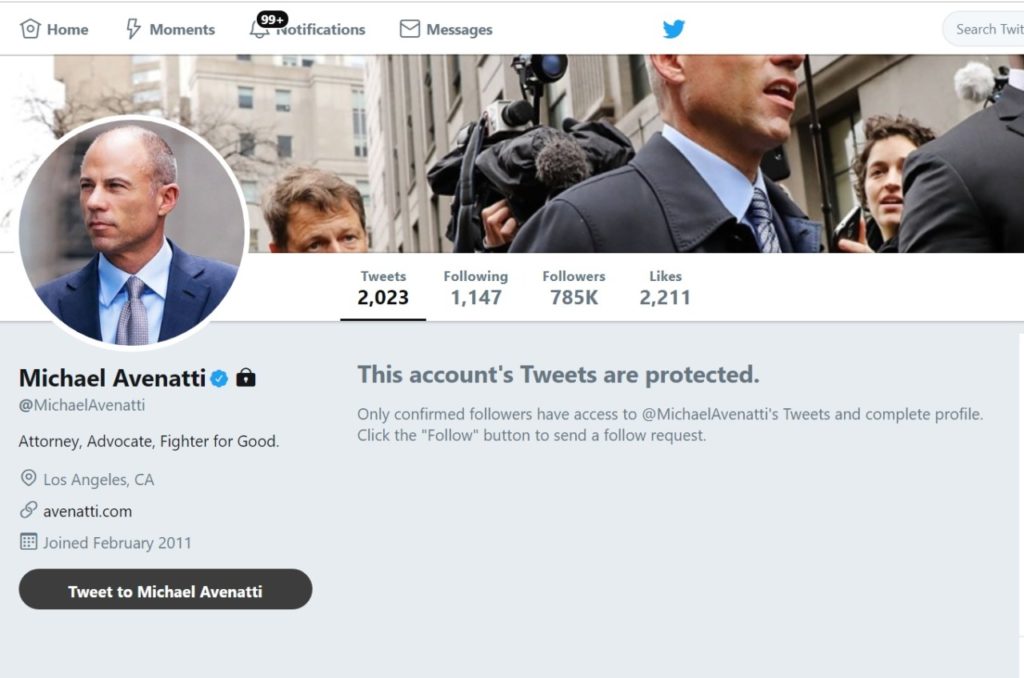 CNBC reports:
Avenatti's client, whom he has called both an accuser and a witness against Kavanaugh, has not been publicly identified. NBC News has not be able to verify her allegations.
She would be the third woman, in addition to Ford and Kavanaugh's Yale University classmate Deborah Ramirez, to accused the now 53-year-old federal appellate judge of sexual misconduct as a young man.
Avenatti in an email to the Judiciary Committee's chief counsel for nominations outlined his client's allegations.
The email said he had knowledge of Washington-area house parties in the early 1980s, when Kavanaugh was in high school, at which Kavanaugh, his pal Mark Judge "and others would participate in the targeting of women with alcohol/drugs in order to allow a 'train' of men to subsequently gang rape them."
"There are multiple women that will corroborate these facts, and each of them must be called to testify," Avenatti said.
During an interview that aired Monday night on Fox News, Kavanaugh was asked "did you ever participate in any gang rape?"
Kavanaugh, his wife by his side, answered: "That's totally false and outrageous, never done such thing, known about such thing."
He then said that when he went to Georgetown Prep, an all-boys high school in Maryland, he was focused on "sports and academics, friendship with classmates and all girls school."
"Yes, there were parties. Seniors had beer, it was legal," Kavanaugh said. "People generally have done things we look back on in high school … but that's not what we're talking about."
"I've never sexually assaulted anyone."
Avenatti, in a tweet after that interview, said, "Brett Kavanaugh is a liar."
"His 'I was just an innocent boy' claims on Fox are laughable and an insult to any American with common sense," Avenatti said.
Referring to his client during an interview Monday night with MSNBC's Rachel Maddow, Avenatti said, "This woman when she does surface, will be found to be 100 percent credible by the American public."
"I would not be representing her if I did not believe her," Avenatti said.
The lawyer said his client does not have just "one specific allegation. It's a series of specific allegations, this is a pattern of behavior, Rachel, that took place across many months and many years."
"I believe that when these allegations are surfaced … [there] will be no question that Brett Kavanaugh is not fit to sit on the U.S. Supreme Court."
Avenatti blasted Senate Republicans, who hold the majority on the Judiciary Committee, for not issuing a subpoena to Judge, Kavanaugh's high-school friend. Judge, in addition to be the subject of accusations by Avenatti, also allegedly was in the same room with Kavanaugh in the early 1980s when Kavanaugh allegedly assaulted Ford.
Judge has said he has "no memory of this alleged incident" by Ford.