The US Department of Justice is investigating after an employee was recorded on camera admitting she misused government resources to resist the Trump administration "from inside." And she's not the only one.
The video, which was published as part of an undercover investigation from activist James O'Keefe's conservative Project Veritas, shows a DOJ paralegal, who identified herself as Allison Hrabar, saying that there is "a lot of talk" at work about how employees can "resist from inside."
Hrabar is a member of the Democratic Socialists of America (DSA) and was part of a group of activists who protested Homeland Security Secretary Kirstjen Nielsen at a DC-area Mexican restaurant in June.
The investigation also revealed that Hrabar seems to be using government computers to perform activism for the DSA. One DSA member, Cliff Green, is also shown on camera telling the reporter that Hrabar uses the LexisNexis database to find the addresses of people that the group target for protests.
"Allison is a paralegal, so she, her living is researching people, so she's very good at researching people. So, they just find the companies, and then the people that run those companies, and then they find their home address," Green says.
A separate DSA activist, Natarajan Subramanian, tells PV that Hrabar "probably" accesses LexisNexis for this purpose on her "work computer." Hrabar was previously part of a protest at the home of DC lobbyist Jeremy Wiley and told PV that she gained access to his address by running his license plate. Asked whether that was allowed, Hrabar said it was possible to do, but not "officially."
Subramanian, who is an auditor for the Government Accountability Office, says that using government-owned computers for that type of activity is "the kind of thing that you would get fired for" and that "we're all walking that line."
Hrabar, however, does not appear to be concerned with losing her job, telling the reporter that "what's kind of lucky is at the DOJ, we can't like get fired."
https://twitter.com/GayPatriot/status/1042555007164444677?ref_src=twsrc%5Etfw%7Ctwcamp%5Etweetembed%7Ctwterm%5E1042555007164444677%7Ctwgr%5E373939313b636f6e74726f6c&ref_url=https%3A%2F%2Fwww.rt.com%2Fusa%2F438947-project-veritas-deep-state%2F
In the secret recording, Hrabar tells Project Veritas that another federal worker, employed at the Department of Agriculture, has been "slowing what they do" in order to allow Americans using food stamps to stay on the program for longer.
Also appearing in the video is Jessica Schubel, former chief of staff for the Centers for Medicare and Medicaid Services during the Obama administration. Schubel admits on camera that there is "a little resistance movement" inside the federal government and tells the undercover reporter that she has friends at the Department of Health and Human Services who "give [her] information"from the administration before it is officially released so she can prepare written responses to new government initiatives in advance.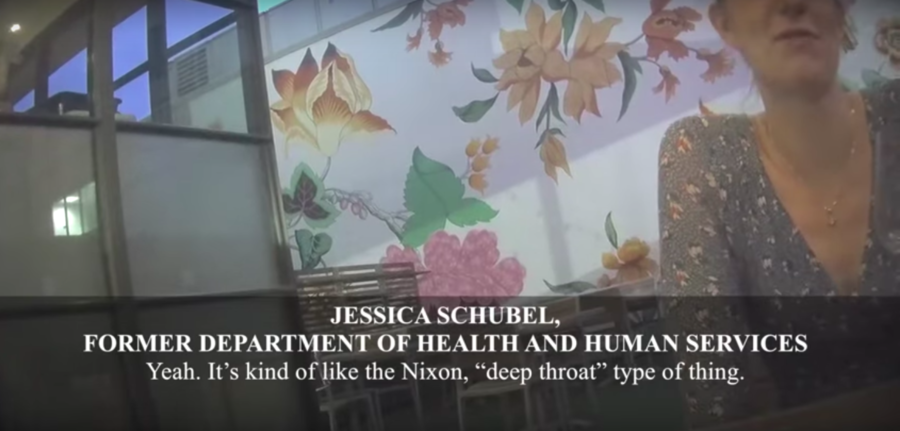 The PV reporter asks Schubel if sending such information is "illegal," which she confirms and says that to receive the information is also "probably" illegal. "It's kind of like the Nixon, 'deep throat' type of thing," Schubel says.
A spokesperson for the DOJ called the video "deeply concerning" and said that it "prohibits misuse of government resources to advance personal interests." It said that the matter had been referred to the Inspector General and was being looked into "immediately."
Predictably, DSA issues statement challenging our ethics. Project Veritas has never had to issue a retraction for its reporting. The true ethical failure was captured on our cameras- their members abusing their federal positions to advance their personal political agendas.

— James O'Keefe (@JamesOKeefeIII) September 19, 2018
The video is part of a series by Project Veritas aiming to expose the "deep state," which it alleges is working against President Donald Trump. Earlier this week, the website published another video showing State Department employee Stuart Karaffa admitting on hidden camera that he was trying to "resist everything" at "every level" and that his goal was to "f*ck sh*t up."
Karaffa said he felt he had "nothing to lose" because it's "impossible to fire federal employee."