The judge who set "Empire" star Jussie Smollett's bond at $100,000 gave the actor an earful after Smollett was charged Thursday with disorderly conduct for allegedly filing a false police report.
"As you stand before me we presume you're innocent but the state read me a proffer that is outrageous. If true, the noose conjures up [the] greatest evil in this country," Cook County Judge John Fitzgerald Lyke Jr. told Smollett.
The 36-year-old actor said little other than giving his name at the beginning of Thursday's hearing. His attorney, who said the actor denies all charges against him, asked the judge to release Smollett on his own recognizance. However, the judge said that would be inappropriate.

In a press conference following the arrest of 'Empire' actor Jussie Smollett, Chicago Police Department Superintendent Eddie Johnson says Smollett orchestrated the fake hate crime because he was dissatisfied with his salary, adding that the scam was a slap in the face to the city.
Following three weeks of mounting suspicions, Smollett, who is accused of filing a false police report, was charged Wednesday with felony disorderly conduct. He turned himself in at central booking early Thursday. If convicted, he is facing up to three years in prison.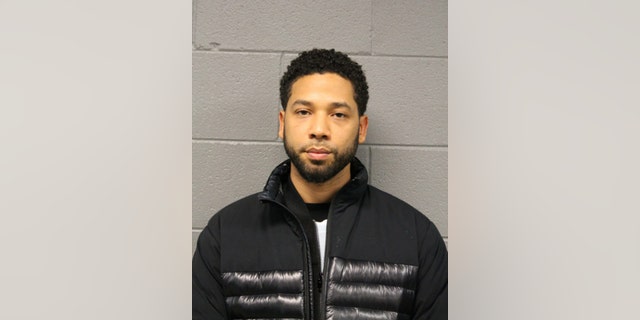 Prosecutors told reporters that Smollett told the two brothers he hired to attack him to yell "MAGA country" and put a rope around his neck during the staged attack.
"He instructed them to get his attention by yelling 'Empire F–' and 'Empire n—–' [and] instructed them to give him a chance to appear to fight back," Assistant State's Attorney Risa Lanier said. Lanier said he provided them with $100 to purchase a red hat, masks and gloves.
Chicago cops laid out their case against Smollett Thursday morning, accusing the TV star of orchestrating an elaborate hoax involving two "bogus" hate crimes — one involving an alleged attack, and one involving a threatening letter — all in order to get a pay raise.
Chicago Police Superintendent Eddie Johnson said Smollett orchestrated a "phony attack" in order to take "advantage of the pain and anger of racism to promote his career."
Johnson said at the news conference Thursday that Smollett, 36, also sent a racist and homophobic threatening letter to himself at the Fox studio lot before the attack because he was dissatisfied with his salary.
"I'm left hanging my head and asking why," a visibly upset Johnson told reporters. "Why would anyone, especially an African-American man, use the symbolism of a noose to make false accusations? How could someone look at the hatred and suffering associated with that symbol…how can an individual who has been embraced by the city of Chicago turn around and slap everyone in this city by making this false claim?"
He added, "Bogus police reports cause real harm."
Johnson said police found the "check that [Smollett] used to pay [two brothers]" to fake the beating, adding he paid them $3,500 "for the two of them in total, and then $500 upon return."
He said the attack "was staged, the brothers had on gloves during the (air quotes) 'staged attack' where they punched him a little, but as far as we can tell, the scratching and bruising that you saw on [Smollett's] face was most likely self-inflicted."
Johnson was also incensed at the spotlight the incident put on his town for the past three weeks.
"This is shameful because it painted this city that we all love and work hard in, in a negative connotation," he said. "To insinuate and stage a hate crime of that nature when he knew that as a celebrity he'd get a lot of attention… It's despicable. It makes you wonder what's going through someone's mind."
Continue reading here.