In a pilot project that aims to make LGBT employees, 'feel included', The Environmental Protection Agency will begin collecting sexual orientation and gender identity information on its employees.
The Environmental Protection Agency is asking all its employees whether they are straight, gay, or "something else" in an effort to create a more "inclusive" workplace, The Free Beacon reports.
The Washington Free Beacon obtained a copy of the agency's Sexual Orientation Gender Identity (SOGI) survey, which is part of a pilot program to voluntarily collect information on its employees.
The survey first asks the employee's pay grade, supervisory status, education, age, marital status, and race, before inquiring, "What sex were you assigned at birth?"
The EPA wants to know how many of its employees are "Straight, that is, not Lesbian or Gay," lesbian or gay, bisexual, or "Something else."
take our poll - story continues below
Completing this poll grants you access to Truth Uncensored updates free of charge. You may opt out at anytime. You also agree to this site's Privacy Policy and Terms of Use.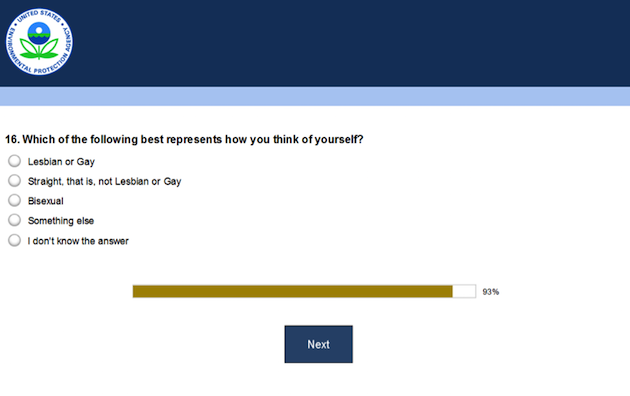 The EPA only gave its employees three gender options, instead of 37.
After asking employees if they describe themselves as male, female, transgender, or none of the above, the EPA asks what they "think of when answering the last question." Choices are "My biological anatomy," "Characteristics of my personality," "How others view me/societal expectations of me," "How I see myself," and "Other."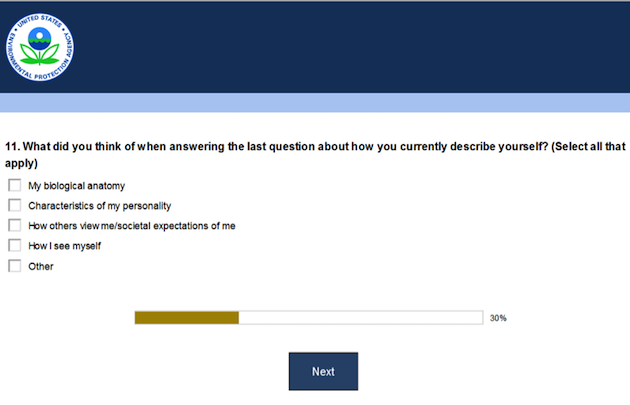 The agency has defined gender as "male, female, a blend of both, or neither."
An agency spokesperson previously told the Free Beacon that the program allows the EPA to "assess whether individuals have equal opportunity for employment," enabling "a robust and scientific way to identify any potential barriers to equal employment opportunity, and then to design solutions to address those potential barriers."
The EPA gives its employees the option of saying certain questions, such as questions about their sexual orientation, make them feel uncomfortable.
The survey asks respondents "How comfortable are you with discussing your gender identity" or "sexual orientation at your place of work?" It also asks respondents "How comfortable are you with being asked about your gender identity by your agency?" Answer options are "Very comfortable," "Somewhat comfortable," "Neither comfortable or uncomfortable," and "Somewhat uncomfortable."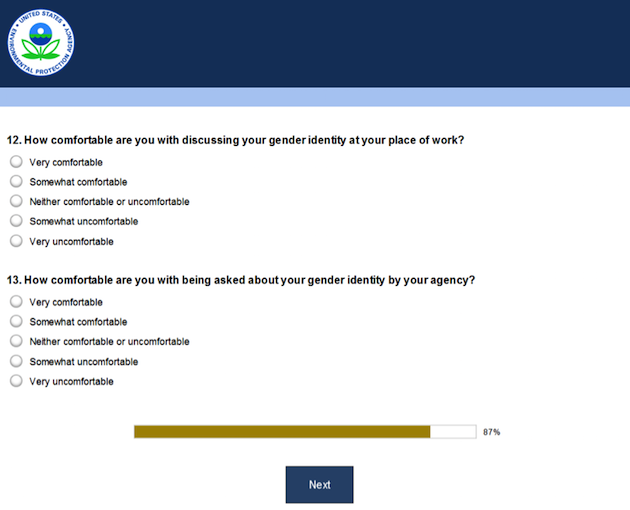 Employees also can answer that gender identity is "irrelevant to my agency's mission."
The survey asks if employees have concerns about being asked about their sexual orientation because it is a "sensitive topic," or because "people who are not authorized may access this information."
One question asks respondents to select potential benefits of the EPA asking about gender identity. Answers include "a more inclusive workplace," "greater acceptance of differences," or "I don't think there are any benefits."
Photo:  Bing