A Russian colonel turned British double agent and his daughter that were found poisoned on a U.K. park bench are likely the latest victims in a long line of Kremlin-ordered hits against spies and dissidents.
Sergei Skripal, a 66-year-old former Russian military intelligence officer, and his 33-year-old daughter, Yulia Skripal, are both in critical condition after being found unconscious in Salisbury, Wiltshire, on Sunday.
British police are working to determine what "unknown substance" poisoned the pair. Posion has been a frequent weapon of death used by Russian intelligence agents, stretching back some 40 years.
Kremlin-ordered assassinations: Here is a look back at the victims of alleged Kremlin-ordered assassinations.
BBC reports:
Russia insists it has "no information" on what could have led to the incident, but says it is open to co-operate in the police investigation if requested.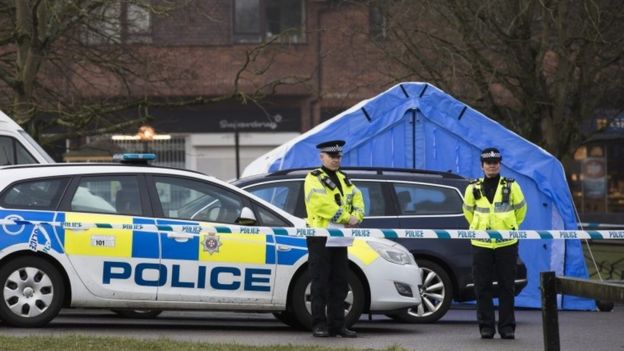 Former agent Mr Skripal, whose wife, son and older brother have all died in the past two years, was granted refuge in the UK following a "spy swap" in 2010.
Dmitry Peskov, Russian President Vladimir Putin's spokesman, told journalists that Moscow was prepared to help with the investigation.
"We see this tragic situation but we don't have information on what could have led to this, what he was engaged in," he said.
Police are currently examining CCTV footage, filmed by a Salisbury gym, showing an unidentified man and woman walking near to the location where Mr Skripal and his daughter were found.
Wiltshire Police said the pair, found at The Maltings shopping centre in Salisbury, had no visible injuries – but that officers were investigating whether a crime had been committed.
Temporary Assistant Chief Constable Craig Holden said the police's "major incident" response was not a counter-terrorism investigation – but that multiple agencies were involved and they were keeping an "open mind".
Meanwhile, police have cordoned off a nearby Zizzi restaurant and The Bishop's Mill pub "as a precaution".
An eyewitness, Freya Church, told the BBC she saw the pair sitting on the bench: "An older guy and a younger girl. She was sort of leant in on him, it looked like she had passed out maybe.
"He was doing some strange hand movements, looking up to the sky…

"They looked so out of it I thought even if I did step in I wasn't sure how I could help."
The possibility of an unexplained substance being involved has drawn comparisons with the 2006 poisoning of Alexander Litvinenko.
The Russian dissident and former intelligence officer died in London after drinking tea laced with a radioactive substance.
A public inquiry concluded that his killing had probably been carried out with the approval of the Russian President, Vladimir Putin.
Mr Litvinenko's widow, Marina Litvinenko, told BBC Radio 4's The World Tonight the latest incident felt like "deja vu" – and called for those receiving political asylum to be "completely safe".
She said: "It just shows how we need to take it seriously, all of these people asking for security and for safety in the UK."