If you are one of the millions of Americans that have been looking for a job and could not find one… you're in luck.
Thanks to President Trump, there are 7.1 million job openings, which is a record high, according to the JOLTS report through August, as tracked by the Bureau of Labor Statistics.
That means there are more jobs available than the 6.2 million unemployed Americans who may be on the hunt for a new job.
The Democrats should be happy, since they have been complaining that wages were not going up, the good news is that wages are on the upswing for full-time salary and wage workers. The average weekly earnings rose to $887 in the third quarter, 3.3 percent higher than a year ago, per the BLS.
"We knew the job market was tight. But we didn't know that we'd break through the 7 million number on job openings," Mark Hamrick, senior economic analyst at Bankrate.com, tells FOX Business. "All of this suggests that the unemployment rate can continue to edge lower. Wages should make further progress to the upside, despite the frustration that this has been slow and late in arriving."
Fox Business reports:
The data, released Tuesday, is the latest check on what is a red-hot job market. The U.S. unemployment rate is sitting at 3.7 percent, the lowest since 1969. In September, job growth of 134,000 was driven largely by health care, manufacturing and construction. Within these key sectors, the White House is encouraged by the rise of working class jobs.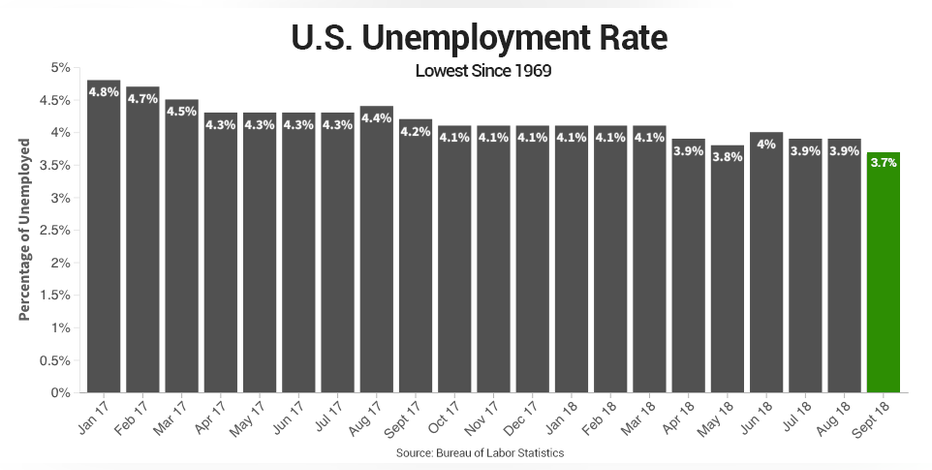 "Blue collar workers are booming right now, the fastest pace of hiring blue collar workers since the mid-1980s when I was first there as a Cub Scout for President Ronald Reagan," said White House chief economic adviser Larry Kudlow during an interview on "Fox News Sunday" last week.
The latest read on the job market pleased investors. U.S. stocks jumped across the board on the news, shaking off a recent bout of volatility which clipped more than 831 points off the Dow Jones Industrial Average during last Wednesday's session. The benchmark of the 30 Dow members has recouped all of last week's losses.
President Trump's top White House economic adviser Larry Kudlow discusses this week's sharp market selloff on 'Fox News Sunday.'