A mob of Antifa protesters gathered outside of Fox News personality Tucker Carlson's house Wednesday in Washington, terrifying Carlson's wife who locked herself in the pantry when they boldly rung the doorbell, and then gathered outside with bullhorns.
The mob chanted "Racist scumbag, leave town," and a second chant was even more threatening: "Tucker Carlson, we will fight! We know where you sleep at night!"
Using their (now deleted) Twitter account, the Antifa group posted the menacing video and wrote, "Tonight, we remind you that you are not safe either."
Carlson said he is used to being confronted in public and has no interest in playing the role of victim, but he said his wife and his four children should not have to be exposed to the aggression while at home.
"Here's the problem, I have four children," he said by phone. "I never thought twice about leaving them home alone, but this is the reaction because this group doesn't like my TV show."
Breitbart reports:
Overheard in one video is a woman saying she wished she had brought a "pipe bomb" to Carlson's house.
Carlson told the far-left Washington Post that the left-wing terrorists "blocked off both ends of his street and carried signs that listed his home address."
Carlson added, "They weren't protesting a policy or advocating for legislation. … They were threatening me and my family and telling me to leave my own neighborhood in the city that I grew up in."
Carlson told Fox News the terrorists "rang his doorbell, broke his oak door" and that his wife "called the police and locked herself into a pantry."
Despite all of this, Ygelsias admitted he had "no empathy" for Carlson's wife of 22 years and admitted that "the idea behind terrorizing [Carlson's] family … is to make them feel some of the fear that the victims of MAGA-inspired violence feel thanks to the non-stop racial incitement coming from Tucker, Trump, etc."
Thankfully, Carlson's four children were not at home when Antifa struck, but Yglesias obviously feels Carlson's entire family, including his children, do not deserve empathy when terrorized.
Authorities are now investigating the family being harassed as a potential hate crime.
Matt Yglesias, a prominent editor of Vox.com, defended the mob tweeting his support of Smash Racism DC, the Antifa group whose members swarmed Carlson's front yard and carried signs with his home address written on them in retaliation for Carlson's supposed role in what they say is "spreading fear."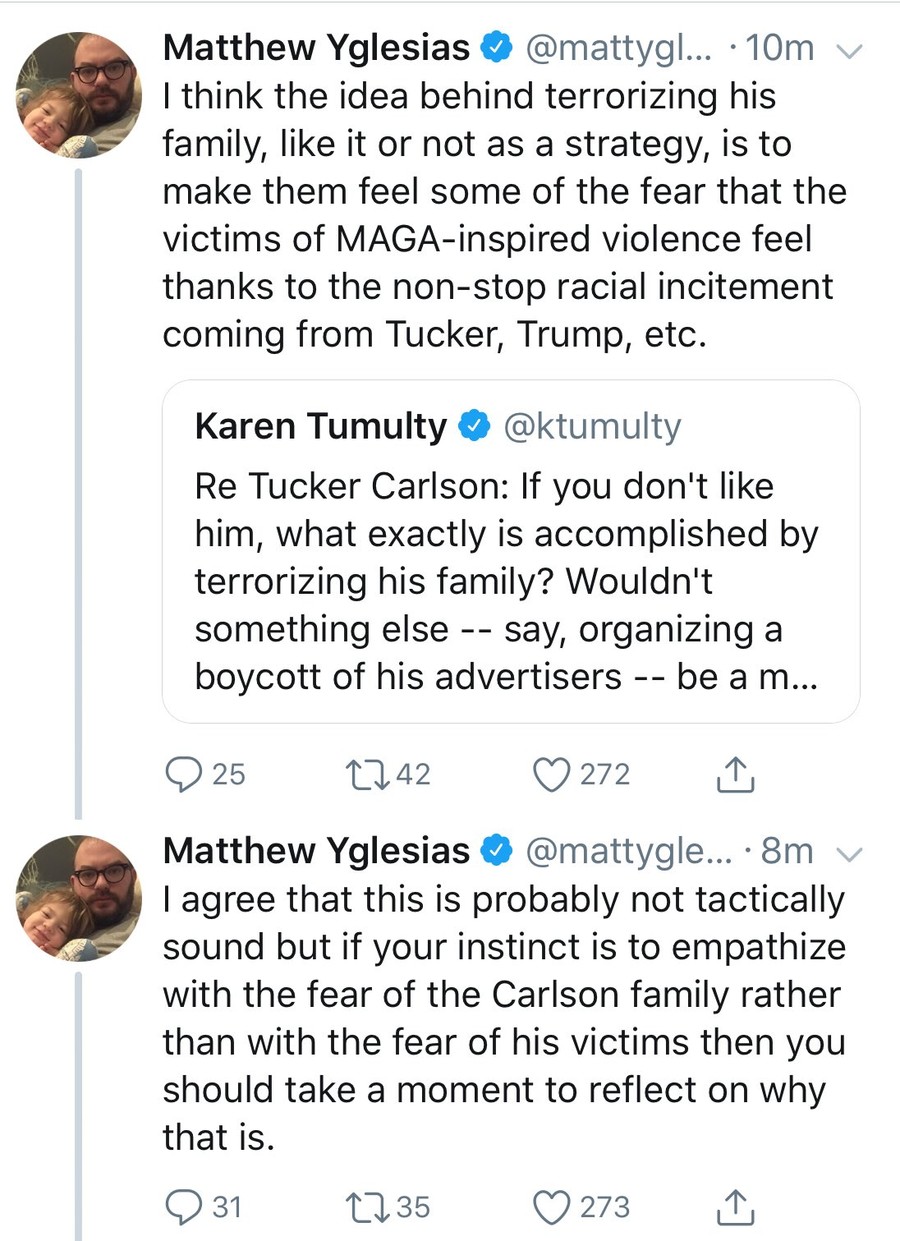 RT reports:
Writing as if the only reason anyone could have for opposing the protesters' actions was that they didn't understand the intent behind them, Yglesias said scaring the Fox host's wife into hiding was an OK thing to do – just bad tactics.
The response from social media was swift and vicious, and Yglesias – who has over 414,000 followers – has now deleted all his tweets. Doing so is an indication that he was concerned about his political stance and what his tweet history would have revealed about him.
This is utterly disgusting as well as moronic. @TuckerCarlson doesn't have victims, he has viewers. They can turn him off if they like. You are demonizing speech and have lost your way. https://t.co/BU6KtxAa1s

— Andrew Klavan (@andrewklavan) November 8, 2018
https://twitter.com/stillgray/status/1060575424021901312?ref_src=twsrc%5Etfw%7Ctwcamp%5Etweetembed%7Ctwterm%5E1060575424021901312&ref_url=https%3A%2F%2Fwww.rt.com%2Fusa%2F443499-vox-cofounder-defends-antifa%2F
The Antifa group Smash Racism, known for harassing their political opponents in public, encircled Carlson's house late Wednesday night, chanting "Tucker Carlson, we will fight. We know where you sleep at night." While Carlson was not home – he was preparing to go on the air – his wife was, and she locked herself in the pantry out of fear of the angry mob outside.
While it's uncertain why he deleted his tweets, and whether it was because of the backlash, or anticipation thereof, Twitter wasted no time in speculating…
…and offering advice.
https://twitter.com/ze_genius35/status/1060710811251859456?ref_src=twsrc%5Etfw%7Ctwcamp%5Etweetembed%7Ctwterm%5E1060710811251859456&ref_url=https%3A%2F%2Fwww.rt.com%2Fusa%2F443499-vox-cofounder-defends-antifa%2F
Good advice